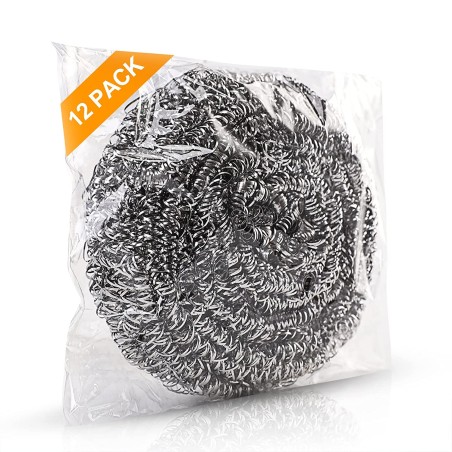  
12 Pcs Stainless Steel Scrubber Thick
📌 HIGH QUALITY: Made of high quality 410 stainless steel, Internal spiral structure, tightly wound, soft and stretchy, preventing them from loosening, rusting, hurting hands.
📌 HEAVY DUTY: Easily remove grease, stubborn burnt-on stain and grimy build-up, These stainless steel scouring pads can deal with the toughest household cleaning tasks effortlessly.
📌 PACKAGE SIZE: 12Pack steel wool scrubbers included, individually wrapped to keep clean and avoid mutual entanglement between these scouring pads. The diameter of each one is approx 2.7 inches, and the weight is about 24 grams.
📌 MULTIPURPOSE: Apart from kitchen and bathroom, you can use them in the outdoor furniture and garage. Great for cleaning uncoated cookware, bake-ware,ovens, grill racks, pots, pans, sinks, spatulas, etc.