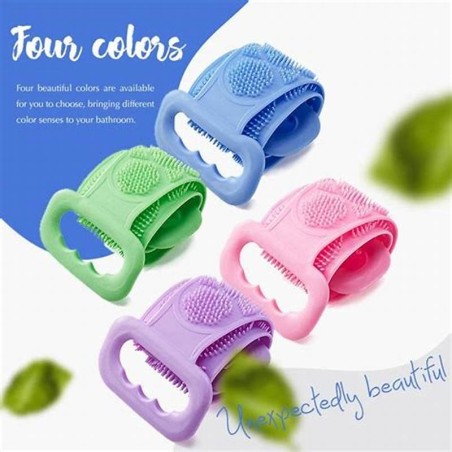  
Body Scrubber Brush Belt
📌 Now you can easily reach and clean hard to reach body parts like back, neck etc. with much ease and without much efforts.
📌 It can easily clean your back, neck, shoulder, arms, legs, chest and feet.
📌 It will quickly dry which can greatly reduce the survival rate of bacteria, mites.
📌 The dense brush head side can penetrate into pores to clean dirt and exfoliate effectively.
📌 The harder particle side can massage the back to improve Vascular Blood Circulation and help your skin metabolic toxins.
📌 Dual Sides with Different Design: One side soft bristles and other side hard both sides you can use as per your need.
📌 COLOR NOTE: Color will be sent random as per availability.
📌 Size: 11 cm x 72 cm approx.
📌 Fold-able and flexible, cleans and massage the body and promote blood circulation.
📌 It is made of Eco friendly, non-toxic and durable Food-Grade silicone
📌 It is more hygienic, soft and comfortable for men, women and kids.
Customers who bought this product also bought: