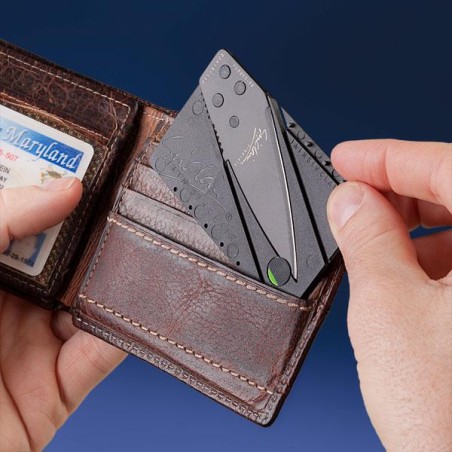  
Ultra Thin Pocket Survival Knife
Kept conveniently and safely in a wallet, the lightweight CardSharp at just 13 grams will always be handy (far lighter than an ordinary pocket knife). With surgical blade technology made from non-rusting stainless steel (heat treated with an ultra tough black oxide finish), this invention is as clean and as sharp as a carton knife and highly suitable for anything from carton opening, cooking, DIY, camping, gardening to pencil sharpening.
The CardSharp is an ultra-light and ultra-thin utility knife that fits comfortably into your wallet.
The CardSharp is just about the most useful and convenient item we've come across lately.
The CardSharp folds down to the size of a credit card, giving you an effective, high-quality, and impressive tool wherever you go.
Customers who bought this product also bought: