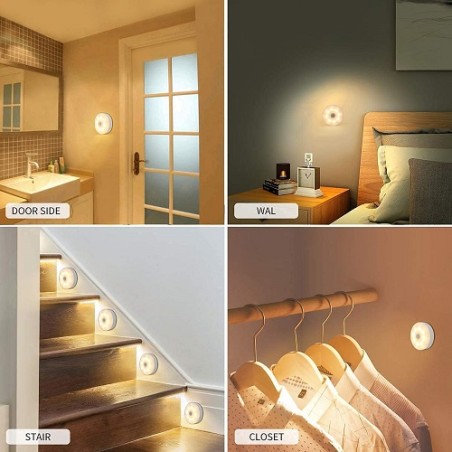  
Automatic Motion Sensor LED Lamp
📌 This is a Latest, New and Unique Product.
📌 Turns ON automatically on detecting motion, than if there is no motion nearby it turns OFF itself after few seconds.
📌 Very useful for elderly people waking up at night.
📌 No need of carpenter or drilling.
📌 Just remove the paper and stick it wherever you need.
📌 You can hang it on a wall or just place it on your table.
📌 Portable, can be used as a flash light.
📌 It is rechargeable.  Light has inbuilt magnet, so you can stick or remove it on the metallic sticker any time for charging.
📌 Sensor Distance: approx 3 - 4 feet without obstacles.
📌 Size: Approx 6 cms Dia.
📌 NOTE: Color Available: Only White.
📌 Warranty: 30 Days.
You can use it at various places and for various purpose:

📌 Bedroom
📌 Staircase
📌 Kitchen
📌 Wardrobe /  Cupboard / Drawers
📌 Inside your Car
📌 Basement
📌 Garage
📌 Traveling
📌 Etc....

Package Contents:
1 Light
1 Self Sticking Metallic Sticker
1 Instruction Sheet
1 Charging wire only
Customers who bought this product also bought: