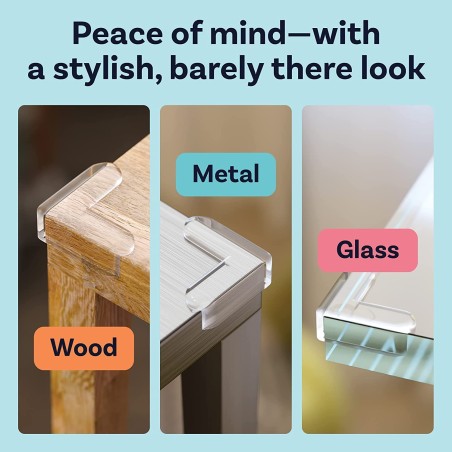  
Corner Guard Protector L Shape Pack of 4 Pieces
Protects you and your clothes from sharp edges of table, Bed and other corners.

𝐊𝐄𝐄𝐏 𝐒𝐇𝐀𝐑𝐏 𝐂𝐎𝐑𝐍𝐄𝐑𝐒 𝐂𝐎𝐕𝐄𝐑𝐄𝐃: Baby proof your home, without compromising on looks, with our clear table corner protectors. 97% of parents we surveyed loved them for their TRANSPARENCY, SECURE FIT, and L-shaped design that fits perfectly around table corners. Use yours on wood, metal, marble or glass furniture.
𝐒𝐇𝐎𝐂𝐊-𝐀𝐁𝐒𝐎𝐑𝐁𝐈𝐍𝐆 𝐃𝐄𝐍𝐒𝐈𝐓𝐘: Our baby safety corner protector products are subject to strict Indian regulations. Our premium PVC PROTECTS, ABSORBS SHOCK & RESISTS BITING and pulling. Other options you'll find on the market lack durability—plus,their too-soft materials don't protect kids' heads from bashes and are easy for little hands to tug off.
𝟏-𝐌𝐈𝐍𝐔𝐓𝐄 𝐒𝐄𝐓𝐔𝐏: Apply our bed corners edge protector with the 2 custom-cut pieces of HIGH-POWER ADHESIVE: one for each side, to give you more peace of mind (other brands cut corners by only including 1 piece). Plus, when baby's all grown up, our recommended removal process AVOIDS STRIPPING OR STAINING FURNITURE.
Customers who bought this product also bought: