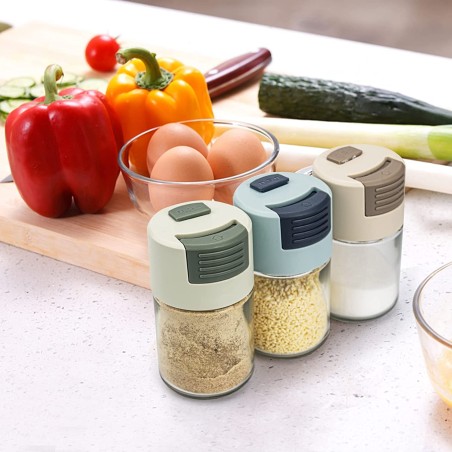  
Quantitative Spice Dispenser
📌 This is a latest push button type- salt and spice dispenser.
📌 When you press the push button, it will dispense of 0.5 grams of salt or spice.
📌 Every time it will dispense exact quantity.
📌 Push-Type Quantitative Seasoning Bottle
📌 Just Make Cooking Easier With this incredible measuring system.
📌 And by controlling daily salt intake, make yourself a healthier life.
📌 Kitchen Must Have: Wide application for various seasonings, salt, pepper, sugar, paprika, cumin powder, chili powder and various small-particle seasonings.
📌 Capacity of 80 grams approx and transparent glass bottle make it easy to observe the remaining and use.
Size: 2 inches dia x 4 inches height approx.
📌 Sealed And Dust-Proof: Made of high-quality glass and ABS resin, one-piece lid that features a setting with no holes makes it effective keep dust and moisture at bay and maintain the freshness.
📌 Ergonomic Design: No matter you're right or left-handed, the ergonomic gadget allows you pour seasoning easily. The curved bottle makes a comfortable grip and control, and the button above the bottle makes a one hand operation with ease.
Customers who bought this product also bought: